---
Marvin is a Large Sized Full Body Puppet with Professional Puppet Features!
FREE Pubbets Drawstring Carry Bag
FREE International Shipping
FREE Adoption Certificate
FREE Adhesive Backed Felt Pupils
10% of profit goes to our kids education charity program
"I designed our fourth Pubbet, Marvin, to be big, light-weight and super fun to use. I wasn't satisfied until the pattern was just right. It took almost 2 years of trial and error, but I think you're going to love the end result!"
- James Marshall, Papa of Pubbets
10% of All Profit Goes To Our Kids Education Charity Program


Shipping Information

Please note that we ship from our freight centre in Hong Kong. We chose this location because it was the best option to serve our customers in the USA, Canada, UK and Australia.
Pubbets are available only on
pubbets.net
or through our etsy store (European customers) or eBay (worldwide).
Thank You For Supporting Pubbets
10% of all profit goes to our Pubbets Kids Education Charity Program.
You can read more about our charity work here.
Dominic arrived super fast & is from the friendliest creator ever. The moment I put him on I was astounded by the quality. I love him so much thank you
Fantasticly fun puppets from a guy very passionate about what he produces.Really glad to support Pubbets!
A really nice puppet, I love it.
I ordered this pubbet for the simple fact that he looked just like a Muppet (my favorite show)
I was so excited when I received him. I was amazed of how fast he arrived, about 9 days after I ordered and he came from overseas. The first thing I noticed was that he had an extra set of clothes (a shirt and tie)
The clothing is of excellent quality.
The Pubbet is a little larger than my other hand puppets I have, a large size for a hand puppet, and made of very high quality, soft, plush and thick material. Nothing cheap here.
I'm adding this seller to my favorite list on Etsy because he says he's in the middle of making two other Pubbets (a girl and boy) so can't wait for those ones to be out.
I have 2 Pubbets and love them! They fit in great with my collection.
This is a wonderful pubbet. He is my sons first "real" puppet, and he is so happy.
'Marvin' Full-Body Hand Puppet with Outfit & Carry Bag
Quality and Value in One
Excellently built puppet, stunningly bright colours, easy to use especially with elastic supports in the mouth, articulated fingers for holding and positioning, and very fashionable with interchangeable wardrobe items ;)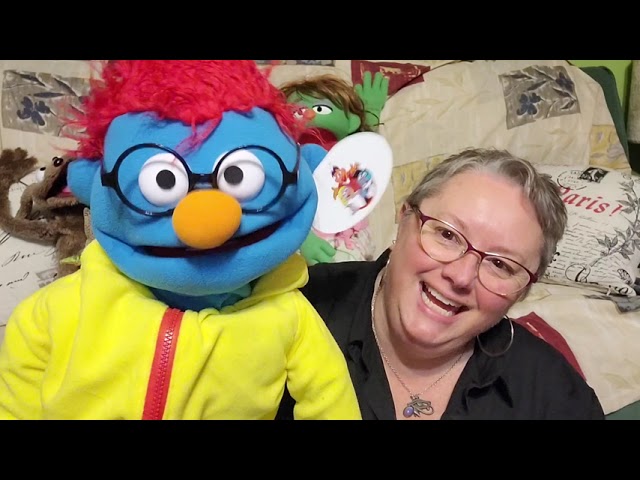 Thanks for the great review! I'm always happy when a Pubbet heads off to Australia!
Herr Frühstück
Great Pubbet. My kid was in love with it from the unboxing. Puppet is of great quality and accessories. I look forward to using it in the classroom.
Thanks for your review, Ben! We've enjoyed seeing your photos and videos online!
Top puppet around
This is a fantastic puppet very surprised it was so light which makes him so much easier to bring along to make people's day
And it is fantastic that you can change his clothes to anything you would like him to wear
Can't say enough l am soooo glad I brought him
Hi Janice! I'm glad that you noticed how light the puppet is. That was a big design goal for us from day one, so all ages can use it comfortably
Awesome fun that brings smiles to everyone!
This is my second Pubbet purchase, and these are great fun that everyone can enjoy.
Lightweight, afgordable, and crafted with passion - you can't help but love what Pubbets bring to the table.
Thanks Drew! You've been very supportive since day 1 and I appreciate it We've come a long way since that first Pubbet!